Did you ever buy a single nail or sold exactly four paper clips? Most probably not. Such small items are usually purchased and sold in packages of dozens, hundredths, or thousands, and the price is assigned to the package and not to the singe item. In such cases, the price of a single item is very small and sometimes even rounded to zero. To enable businesses manage inventory of small items by single item, SAP Business One introduces the Pricing Unit:
The pricing unit is decoupled from the inventory unit of measure, allowing you to manage inventory by the single item, and independently set prices to the various packages.The pricing unit is also reflected in the price lists: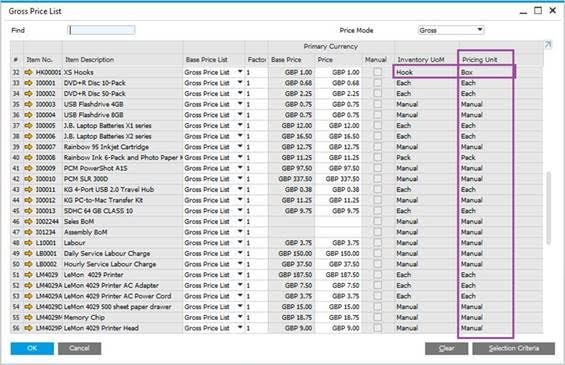 Available in SAP Business One 9.3, version for SAP HANA and SAP Business One 9.3. For more info, contact Mark Burt at mburt@d1tech.net or click here for more SAP Business One information!